R-Lastic
R-Lastic is an exceptionally versatile elastomeric coating.  It is used as an organic, flexible bonding adhesive, waterproof coating, crack isolation membrane, and as an air barrier coating.  All Poly VBM mortars bond well to R-Lastic.  It is recommended for special bonding conditions such as to wood, metal, or conditions requiring a high degree of flexibility – precast wall caps, wainscot etc.
R-Flex Ad
A highly flexible, latex additive for VBM bonding mortars and Cemcoat Seal. R-Flex-Ad produces exceptionally flexible mortars when used in lieu of water as the mixing liquid. A dampproof,  elastomeric cement coatings is produced when mixed with Cemcoat Seal or VBM-Bonder. R-Flex Ad is not recommended for joint grouts as it will change color.
R-Acrylic Ad
A water based acrylic additive for addition to cement mortars and grouts. When added to joint grout mortars it significantly improves flexural bond, water resistance, stain resistance and impact resistance. It is recommended for heavy duty applications. R-AcrylicAd is a harder polymer than R-Flex-Ad and is color stable for long term performance.
J-4 R-Repel Aid
An integral water repellent cement additive. It is suggested for addition to concrete slabs on grade, retaining walls and fill grout for concrete block.  Addition to concrete bases in paver applications will significantly protect the entire assembly and reduce water migration from the substrate and efflorescence.
Cemcoat Seal
A polymer modified, cement based, dampproof coating for concrete and concrete block. This cement coating chemically bonds to cement substrates and may be bonded to by polymer modified VBM mortars.  It may be mixed with only  water or  R-FlexAd for extra flexural properties and water resistance.
Silox-PS2
A water based, silane-siloxane penetrating sealer for masonry veneers and pavers. It penetrates and forms a chemical bond with the inorganic masonry to provide long term protection. It has little to no effect on the color or appearance of the masonry unit. Silox-PS2 is sold as a concentrate and is diluted on the job site.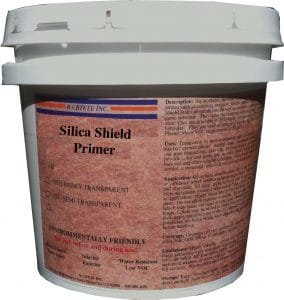 Silica Shield-Primers
Are water based, inorganic silicate primers-hardners for concrete, concrete masonry, stucco color coats, cement scratch & brown coats and some natural stone.
#1- Potassium    #2- Lithium    #3- Polymer Modified
Silica Shield-Sealer A
Silica Shield-Sealer A is modified silicate sealer that hardens and seals sand based stone and masonry products.